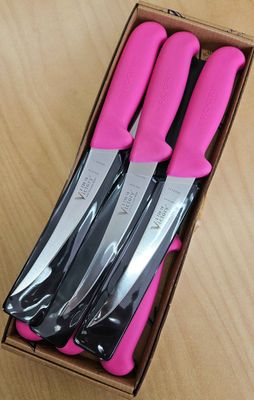 Victory 15cm PROGRIP Boning Knife - Pink
Victory - NZ Made
$41.99
Out of stock
Narrow Curved Boning Knife 15cm, used for boning and trimming all proteins. Also used for filleting.
Victory 2/720 Curved Boning Knife Features:
Simple to maintain cutting edge
Thin edge slices more easily
Super efficient cutting blade
Finger guard design for added safety
No gap at handle and blade joint or better hygiene
Handle and blade materials MAF and FDA approved
Manufactured in New Zealand since 1927, VICTORY Knives are renowned for performance, durability and corrosion resistance. The preferred choice for the New Zealand and Australian commercial meat industry, so you know quality is second to none. All knives come with a lifetime guarantee.

SKU: 2/720/15/200PK