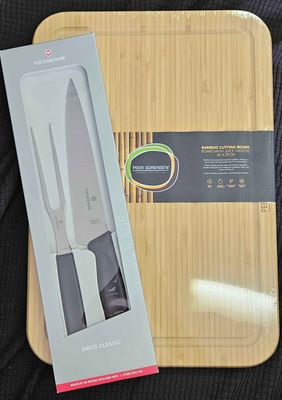 Carving Knife & Board Gift Set
Victorinox
$137.95
Elevate your Christmas Lunch experience with this awesome gift set. Available while stocks last!
Your set includes:
19cm Victorinox Carving Knife
15cm Victorinox Carving Fork
Peer Sorenson 42 x 29cm Bamboo Cutting Board with Juice Groove
Because the finest organic meats and free-range poultry deserve the finest utensils, meet our Swiss Classic Carving Set. This two-piece set will elevate your carving game, no hassle. Slice, sliver, carve and cleave with the 19 cm knife. Keep it all stable on the board with its natural partner, the 15 cm fork. Both feature ergonomic Swiss Classic handles for exceptional grip.
SKU: 671332GBS