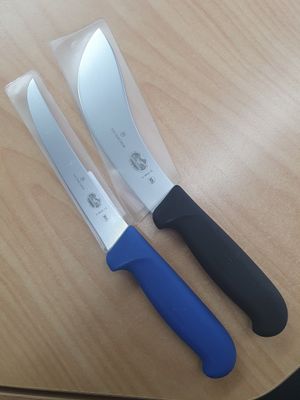 Homekill Combo SPECIAL
Victorinox
$89.95
The perfect little set for a classic homekill.
Whether you're a butcher, a chef or an everyday kind of cook, the Fibrox professional line of Victorinox knives delivers the precision and efficiency of the restaurant kitchen to your home.
Combined with high carbon stainless steel blades, the non-slip handles of the Fibrox Boning and Skinning Knives have been ergonomically designed so that cutting without resistance and separating meat from the skin and bone becomes a simple, swift task.
Your set includes:

15cm Victorinox Skinning Knife
6" Victorinox Wide Boning Knife (colour selected at random)
SKU: HKCOMBO