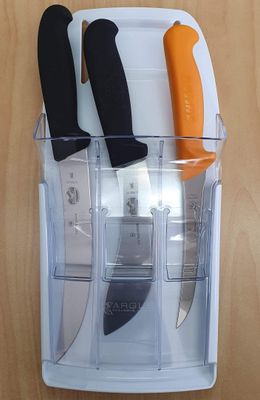 Butcher's Kit
Victorinox
$189.95
A complete butchery arsenal from go to woah. Victorinox's patented Fibrox and SWIBO handles are non-slip, even when you're getting your hands dirty. Keep your butchery knives in top condition by storing them in the plastic ergonomic knife pouch. Simply thread any belt through the pouch and you'll have your knives ready to go when you are.
YOUR SET INCLUDES:
15cm Victorinox Skinning Knife
6" Victorinox Swibo Boning Knife
20cm Victorinox Steak Knife
Triple Ergonomic Butchers Pouch
Dishwasher safe, but hand wash recommended.
SKU: BUTCHKIT